Innovative Medicat solutions
— each powerful on its own, and delivering even more value when leveraged together. Save
time and money, improve patient safety, help reclaim valuable staff resources, and streamline workflow.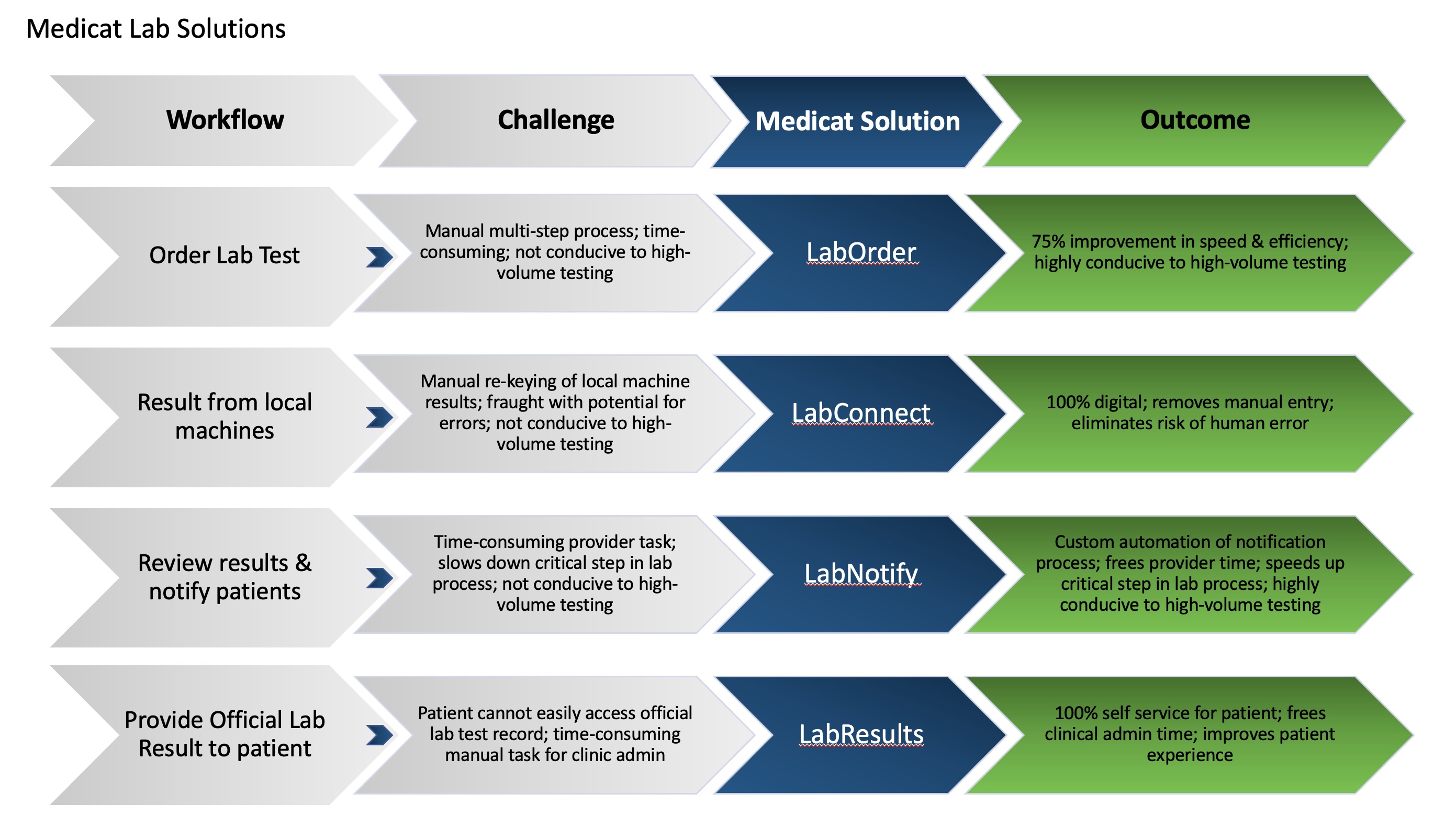 LabOrder
This solution dramatically reduces provider and administrative time by 75% with web-based integration of demographics, ordering, and printing for lab testing.
Great for remote testing sites or clinic locations where clinics need to allow students, employees, or affiliates to quickly and easily get lab tests.

No need to place orders before arrival for testing, just

"swipe, verify, print, and go."

It's that easy!

Allows clinic staff to capture, either manually or via card scan, the student ID, in order to:

Update demographics and contact information

Send Order (initiates lab order previously designated by clinic)

Print the Order Requisition and/or Label(s)
LabNotify
This solution dramatically reduces provider and administrative time by 90% and streamlines review of lab results and patient notification.
Complete automation of the

interfaced

lab results notification process.

Saves time and reduces manual intervention to provide test results to patients and update their record as "Reviewed."

Whether the lab results are normal or abnormal, this automation dramatically improves provider efficiency and optimizes risk management.

LabNotify has two options to meet the needs of clinics large and small.



LabConnect
This versatile lab interface connects in-house lab devices to Medicat so you don't have to manually enter results.
Improve patient safety and provide proper risk management and quality controls.
Automatically interface the results from your in-house devices to Medicat:

Rapid analyzers for Strep, Influenza, COVID, HIV, and Mono

Urine analyzers

Glucose, Hematology, Hemoglobin analyzers

Immunoassay, PT/INR analyzers

Spirometers

Save money by eliminating manual entry of results.

Eliminate transcription errors.

Support high-volume in-house testing.

Provide better controls for quality assurance.



LabResults
This innovative feature delivers official lab results in PDF format directly to your Patient Portal.
Reduce calls, walk-ins, and requests for test results by allowing patients 24/7 access to retrieve their own official lab results from the Patient Portal and have the ability to print the official report as a PDF.
Save money by automating time-consuming, manual tasks.

Reduce memory cost by not duplicating storage of PDFs when sending secure messages with results attached.

Improve the overall patient experience by making results available 24/7.

With

Medicat LabConnect

or third-party reference labs* (Quest, LabCorp, etc.)

,

Medicat LabResults

allows patients to access and view official lab results and download the formal lab report from the Patient Portal.
*Medicat LabResults does not currently allow display of manually entered or scanned results.